Their Common Purpose, more like: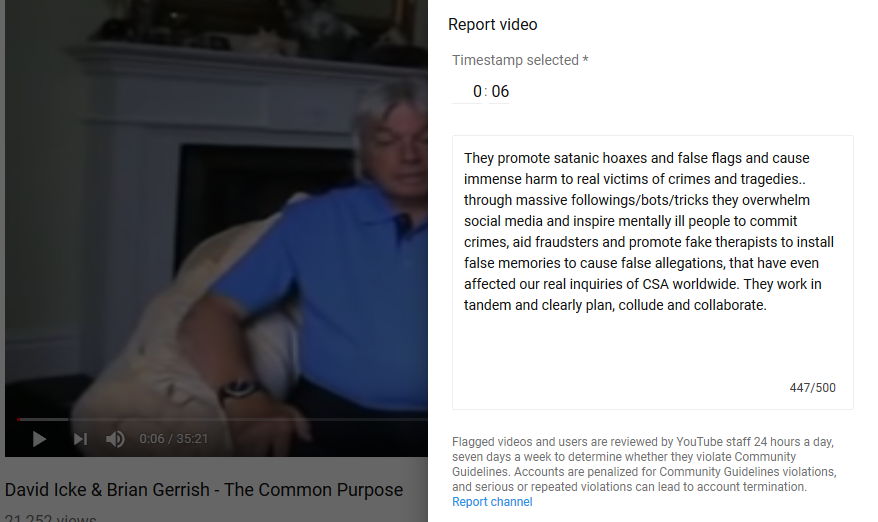 Though, Old Farts or Fakes would be a better description, given that their line up and backers are the same types organised by Penny Pullen (FSF Director) and Belinda McKenzie to hijack the 2010 UK Anti Child Abuse Rally:  Kevin Annett, was promoted, so was Robert Green (who despite a lifetime restraining order, is now backed strongly by ex cop Jon Wedger & co)……but then ex cop Ray Savage, ex cop who early promoted the Hampstead Hoax was HopeGirls #QEGScam boyfriend around the time the hoax was kickstarted, they met at the Sasha Stone UK tour 2014 (He tried recently to promote the hoax at his ITNJ)  Is Sasha Stone the new Kevin Annett? A journey down the rabbit hole
Jon Wedger boasts of working closely with Bill Maloney, whose form includes promoting blaggers like Ben Fellows and  Chris Fay (Boilerroom fraudster & naypic/elms guest house list faker).
Bill, Belinda McKenzie and others infiltrated and tried to sabotage IICSA in it's early days, along with Malcolm Blackman (aka Joe Public, ex 4channer and RIPTroll)… OpDeatheaters, like Wesley Hall, Jake Clarke who collaborated with pedophilesdownunder (prev: pedohuntersdownunder, to attack survivors during the Royal Commission Aus & sabotage it via their satanic scammer; Fiona Barnett (aka barnyard) and David Shurter, who is massively supported by Angela Power Disney who prays daily for him with her latest (well, openly anyway) sycophant and survivor basher;  Naima Dawn Feagin aka HopeGirl #QEGScam.
HopeGirls New Zealand & Australian Scam
QEG Debunked by Mike West – Metabunk Forum 2014
See previous post for John Browns recordings of death threats.
HopeGirl has maliciously struck channels that expose her frauds/scams/lies and is working hand in hand with David Scott, Cat Scot (FSF Directors) and Malcolm Konrad Ogilvy, chief last pusher of the hollie hoax and vile abuser to women and CSA Survivors: Click link below for Hoaxteads moronic lies and bs, as she projects her venom, some more, for her friends, from the safety (she thinks) of her Moroccon scam house.
HopeGirl HollieHoaxer & Fresh Start Foundation collusion
Brian Gerrish (Uk Column) promoter of CSA Hoaxes and quack false memory causing therapists like Wilfred Wong and Sandra Fecht, liars like Tom Crawford, Karl Lenz and other FMOTL failures and con artists and paedo apologists:
Other Freemen of the land types attended the hampstead event to harrass and bully the community March 2015 (watch till end).
And David Icke who also rocked up at our rally 2010, which had been organised for CSASurvivors/victims and true supporters to speak, but was hijacked in the last weeks, he promoted the Holliehoax and other fake satanic panic mongering stories and is responsible for causing much harm, not least his support of Zen Gardner (though at the time, the troofers had big conferences planned), which failed 🙂
The Fresh Farts (Old Farts) lining up to keep their vile false flags alive (their YouTube Channel), below.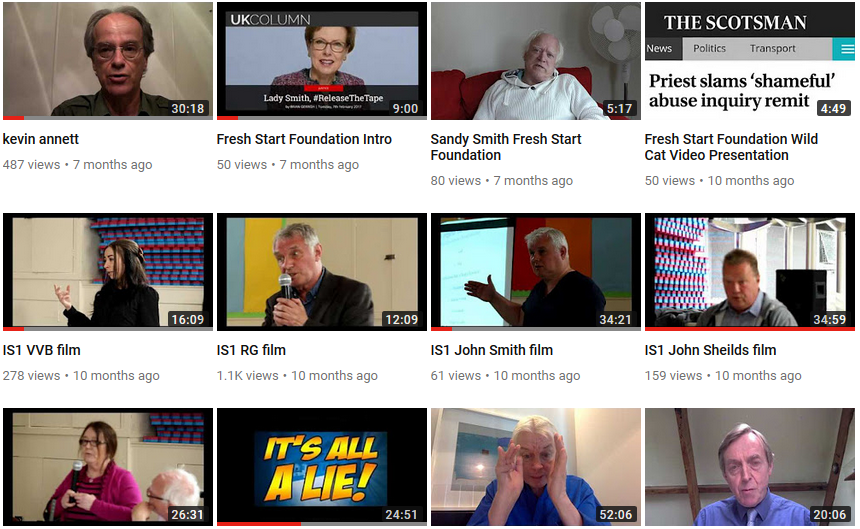 They are following the same pattern of dismissing real inquiries and attempting to hold their own Grand Jury (FMOTL) style kangeroo courts:  Is Belinda planning a kangeroo court?    bullying victims/survivors and groups that won't follow their lead down the rabbit holes and into madness.
So not really Fresh Start is it?….. but an attempt to re kickstart their failing, foul false flags that undermine genuine survivors and inquiries, investigations and by now, there is so much proof and evidence of their vile bullying, attacks, threats towards anyone who won't repeat their fictions, fantasys, frauds and scams.