Weird copyright claim thing happened, earlier, but first………Perhaps, David Scott can provide evidence to prove that (his words) 'Sheva Burton claims to be a campaigner for child abuse survivors, but all I've seen her do is bully victims'……????  As a Director self appointed, speaking for and at survivors of abuse, much like David Icke, Brian Gerrish, Belinda Mckenzie, Robert Green and all the rotten so called truthers do, whilst peddling fake and embellished, solacious stories across the web, relentlessly even now, dusting off, the fallen holliehoax and attempting to respark interest in those peddling two childrens faces, testimonies tortured out of them by sick creep Abe Christie, who ran as soon as the police had hold of his phone………
David Scott also claims that all Hoaxtead Research does is to dismiss any claims of child abuse and help cover it up…….   Absolutely not, in fact, you and your cohorts and those who've hijacked and prowled around our groups and events for a decade at least, online are charged with exactly that ! ………..  Obscuring the reality of child abuse….for your own perverse or political agendas.Fresh Start Foundation reveals disturbing agenda: Please read & share. Also call to action in comments. We need help to remove the vile viralised videos of the children from the web.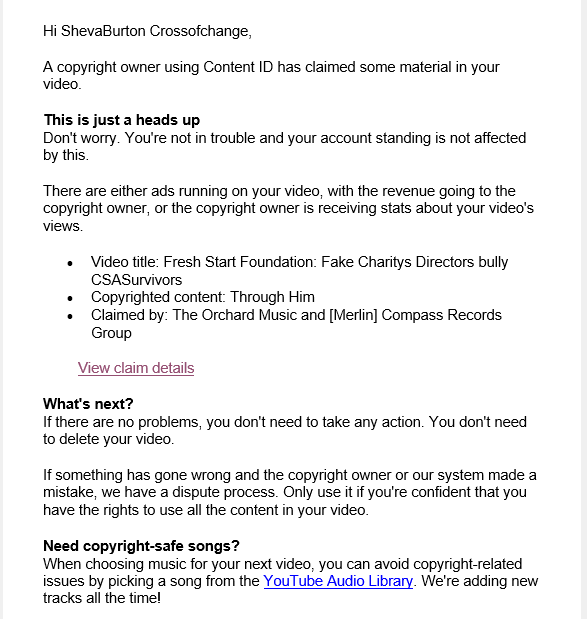 The troofers/conspiracy creeps and their trollgangs bombarded many professionals and government departments, MPs and public services over the years.   It has become clear  at FSF conferences, the fact, they are using as if some kind of ace card,  that Mike Veale of Wiltshire Police said 'If Ted Heath were alive, he would be questioned, under caution'……..well yes, but based on what claims and made by who ?………  Their script then goes, well if the prime minister did…. then you cannot trust any goverment inquiry or the police etc…….  But who started those claims ?…… If survivors told David Icke all those years ago, then why did he not get them to go to the police back then ?
It has been boasted about and recorded that Angela Power Disney, with help from Miles Johnston told Wilstshire Police  wild stories of being chased through woods, including MKUltra trauma bs in the army base and has hinted many times that she thinks some high ranking VIP was there, a bit like Esther Bakers story, which she mentions often in amongst all the other rubbish, when she's not dropping other fakes names, like David Shurter, Fiona Barnett and Cathi Morgan………   Miles Johnston would've been able to trigger lots of online clickity trolls and bots, had she not began to reveal his sleazy side, which hasn't so far been investigated, to my knowledge……But with his implant testing and massive array of equipment, background and connections, his support of False Memory causing therapists ……..  He's certainly not helping any victims, but preying on them and aiding others to.
Then Heather Brown, too who has viciously tried to taunt, humiliate, shame and pour scorn on me, while Angie gleefully encouraged her, just as HopeGirl (#QEGScam) has gleefully taken down my YouTube channels, set up to support real and genuine campaigns, survivors, events etc……  I'm sure David Scott was delighted that I have to now re make the video for Danny of ShatterBoys, since even recently he mentioned him alongside me, with insinuations in amongst his attempts to smear those of us aware and exposing their dark and despicable agenda.   Heather says on video that she went to Wiltshire about Ted Heath.   His adored, so called researcher WildCat wrote endless streams of vile abuse, towards him, shatterboys and me…… all faithfully shared one of the creepiest stalkers on the web, Malcolm Konrad Ogilvy who runs one of the last clingon blogs, never has he been discouraged from targetting survivors, abuse victims, strong campaigners, with his other creepy mates, those with vested interests who have consistently shared the troofers tales of satanic gore and clickbait, pedogate crap.
Robert Green who should surely be arrested and charged for breaching his lifetime restraining order, plus the need is there for algorithms to be created, to wipe YouTube, Facebook and other platforms when a restraining order has been granted.
These vile viralisers are relentless and there are 100s and 1000s of videos, that should not be there by now………  Especially the Hampstead videos…..  enough reports have been made, for it to have been picked up by security services, surely ????  Please help us trigger some real action on this, if you are able to.
Robert Green has boasted about bombarding and the evidence is online, published by him….encouraged by all who spoke at recent FSF Roadshows, where survivors are told not to go to the police or real inquiries, but instead to entrust their testimony with these creeps.
You might think the evidence of the collosal amount of bullying, intimidation and smearing of me has disappeared, but it will re appear, soon and now some very important people are looking closely at the behaviour being displayed…..and even though FSF are trying to clean up their image, it's too late, thanks mainly to Hoaxtead Researchers and investigators, it is all in those evidence files that you lied about……  What they contain are records of the vile abuse and death threats levelled by those supporting your creepy agenda.
So is Jon Wedger groomed or financed, is he desperate for support, which you lot have then used to manipulate him ?   Was Mike Veale bombarded and with all the misuse of mind control techniques like NLP that goes on,………..  There are many, maybe sucked in, that on seeing the dark agenda will then, realise and can rest assured that many of us will understand, we realise how manipulative and clever some of them are.  I don't know how though, Jon wedger doesn't realise that Rober Green was rightly imprisoned.   They are still lying about that.
Many people that either gave all this a pass, ignored it and many who did follow these people, believing in them, have been reading, sharing and spreading the word amongst networks….  Many have contacted Hoaxtead Research and all who wish to remain anonymous are protected.
Getting back to HopeGirl aka HoaxGirl…..  It could be wishful thinking, but that copyright complaint was obscurely done and undone by YouTube, I'm hoping they have caught on to her misuse of their tools for copyright complaints and I hope even more of her scamming videos fraudulently peddling a useless scheme and plastic ineffective junk, vanish……..  from the web…. again, once a scam is proven, it would be great if the platforms could sweep the internet clean of the criminals……  Here's hoping 🙂  And keep reporting her #QEGScam and #OrgoniteBullshite videos as the more reports, the more the algorithms kick in, which is the trick that the hordes of minions employed by scammers and so called troofers use….. to stop people exposing them………  Here's hoping some fix the world and free us from scammers/crooks/charlatans and child abusing liars, tools get born 🙂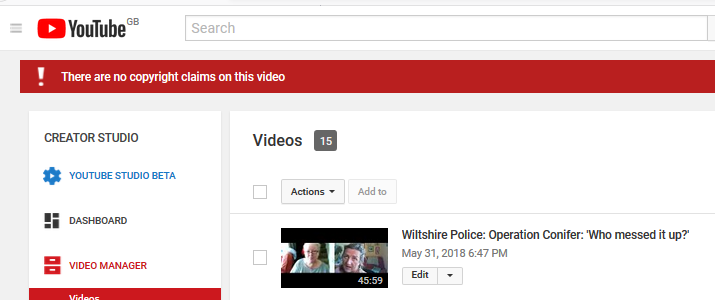 So then came the spam reports on a unique public interest 'fair use' 15sec clip, that is an important puzzle piece, which is already in the public domain thanks to Angela Power Disney, who also gave 'evidence', too, messing with Operation Conifer, bears investigation.